Tricia Wellings, Early Years Director, NNEB, BA (Hons), EYT, ATLS
Early Years Trainer
Tricia has worked in the early years for over 19 years. During that time she has gained her NNEB, BA (Hons) in Early Educations Studies, Early Years Teacher Status and more recently my PTLLS, CTLLS and A1 Assessors Award.
Prior to her life in early years she worked in the printing industry in sales and customer service for nearly 10 years. However, her sales skills were learnt across two main industries selling vending machines and selling timeshare. The latter of which she did in Spain when she lived there in her early twenties.
She lives in Warwickshire close to her two grown up girls, 25 and 23 and their growing families (1 grandson and another grandchild on the way)  and her highly talented partner Paul – who is our IT champion, a co-director and go-to person when things need sorting. Her retirement plans keep being pushed back as there is still so much to do in the early years. In the meantime she explores different parts of the world on holidays – well that was before Covid-19 of course – one day this will be resumed.
Currently Tricia Wellings…
Owns five day nurseries called Bright Kids and two out of school clubs. Five years ago opened the MBK Training company, in order to support training the Bright Kids teams. The training side of things has grown rapidly and we now serve nursery and school customers across the country.
Following on from the interest in training came to the consultancy side and MBK Consultants was born.
Tricia also created and developed several products for early years that originally traded under the Foundation Focus brand, but are now incorporated here in our new website.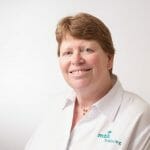 Alongside this Tricia also supports many things in the early years. She is one of the PVI representatives with Worcestershire Child First, and Chairs a local PVI support group called WIPS. She also Chairs the West Midlands Ofsted Big Conversation Steering Group and is on the committee of the Birmingham PVI Support Association and a member of the Warwickshire PVI Early Years Support group.
It's fair to say she has a passion for all thing early years related and this is reflected in her training and consultancy work. Her personal website can be found at www.triciawellings.com